A Guide to Finding Gold Prospecting, Panning & Mining Equipment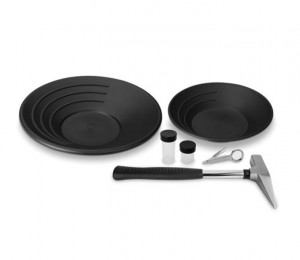 While commercial gold mining operations require millions of dollars to find gold properly, you can actually get started with amateur gold prospecting and panning with a very small investment.  Recreational gold panning and prospecting has become very popular across the country, and for only a few bucks you can get all the equipment you need to start hunting for gold yourself.
In fact, identifying where to find gold is more difficult than learning the techniques of how to find it at these locations.  The techniques for panning gold are easy to pick up, but you can't just  expect to find gold at every creek and stream you come across.  The most likely place to find gold is in spots where people have already found it . . . make sure you do plenty of research ahead of time to identify local streams where people have successfully panned for gold in the past.
A beginning gold panner can start on the hobby right away with little more than a plastic gold prospecting pan, although it's a better idea to spend a little bit more money on a full gold prospecting starter kit that includes other useful tools like snuffer bottles, classifiers, gold vials, tweezers, and gold panning how-to books.
After you've learned simple gold panning and if you have more money to invest in prospecting, you might want to consider purchasing more advanced equipment like sluices, dredges, drywashers and metal detectors for finding gold.
Gold Prospecting Beginner Kits (Average Sale Price $25 to $100)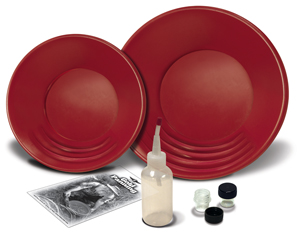 Unlike many outdoor hobbies, you can actually start out in gold prospecting for a very small initial investment.  A good gold pan beginner's starter kit can be purchased online for well under a hundred dollars, and will include everything you need to start out the right way.
A typical prospector's starter kit will include a plastic gold pan; a plastic gold snuffer bottle; a classifier for separating out larger material from your pan; a gold vial for storing gold flakes; tweezers; and perhaps even a how-to book for new gold prospectors.
Remember: you don't have to pay much to get all of the right equipment you need to start out in recreational gold panning.  A simple starter kit is really all you need to get a feel for the hobby and decide whether or not you want to invest more money and time.
Gold Pans (Average Sale Price $5 to $15)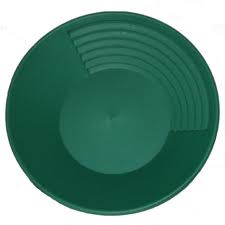 Gold prospectors and miners in the early part of the 20th century used metal gold pans . . . and you can still buy them today if you want a more traditional gold panning experience.  Most gold pans nowadays, however, are made from plastic, and are very inexpensive.  Additionally, unlike old metal gold pans, today's plastic pans are also manufactured with "riffles" and other features that make it easier to catch gold flakes and dust in the pan.
A reliable plastic gold pan can be purchased for less than ten bucks at many locations, but they are usually acquired as part of a larger beginner gold panning kit (see above).
Gold Panning Classifiers (Average Sale Price $10 to $25)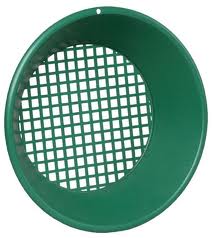 A gold panning classifier is basically a screen (or sieve) that is manufactured to fit over a gold pan and screen out larger rocks, pebbles, sediment and other debris from material before it goes into your pan.  While classifiers aren't as vital to gold prospecting as a pan, they are helpful.  Classifiers, like pans, are primarily manufactured from plastic, with metal screens.  Like gold pans, they can be purchased individually, but are more often bought as part of a starter gold package.
Gold Vials (Average Sale Price $1 to $10 Per Pack)
Vials for holding gold flakes and fine gold dust come in either plastic or glass, and are usually sold in packs of several.  Plastic vials are more durable and less likely to shatter or break while you're out in the field.
Snuffer Bottles (Average Sale Price $1 to $5)
These are small plastic bottles that allow you to suck find gold out of your pan flake-by-flake.  Simply squeeze the snuffer bottle and the gold is suctioned up through the plastic nozzle.  These are very inexpensive, but a must-have for serious gold prospectors.  You'll usually get one of these in a gold prospecting starter kit.
Gold Sluice Boxes (Average Sale Price $50 to $200)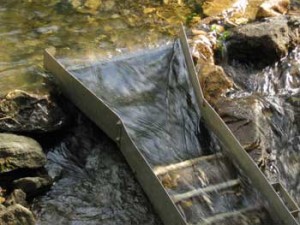 Sluices have been around in one form or another for hundreds of years.  Back in the 1800's, gold rush pioneers used wooden sluice boxes to separate rocks, pebbles and dirt from gold.  Today, gold sluice boxes are made of metal and are relatively inexpensive to purchase.
A sluice looks like a long, narrow metal box, and it is placed directly in a stream to allow water to pass through it.  When you pour sediment and material from the creek bed into the sluice, the water will pull it though the sluice, separate the dirt and rocks from heavier elements, and leave gold-bearing sediment behind.
There are many different varieties of sluices that you can buy, from simple non-motorized sluices to ore expensive, larger and complex motorized versions.  While sluices make the job of gold prospecting easier and are a vital part of any serious prospector's equipment, they aren't necessary for brand new hobbyists who are just starting out.