Pan for Gold in a Real California Gold Rush Town!

Come to Jamestown, gateway to the historic Mother Lode country. Walk along the wooden sidewalks and you can almost hear the whispers of the townsfolk who lived here in 1850. Shopkeepers still trade gold. In fact, more gold is mined now than in 1849. ( Two million ounces in 1849 compared with 10.6 million ounces in 1993!)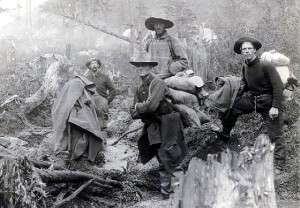 This postcard perfect town is on the way to Yosemite Park and just a stone's throw from Columbia State Park which is 2 1/2 hours east of San Francisco and three hours South of Lake Tahoe on Highway 49. We have nearby river rafting, award winning wineries, countless outdoor activities. Hunt for antiques on Jamestown's Main Street or enjoy a ride on a horse drawn carriage.
You can ride an old train pulled by a steam engine at Historic Railtown 1897 which is just up the road from our Jimtown 1849 Gold Mining Camp where old tent sites of the 49ers have been restored along with miner's flumes, rocker boxes and boothill. You will see Mark Twain's Cabin which is just downstream from Sutter's Mill. The camp will play a prominent role in the upcoming Celebration of California Sesquicentennial. Thousands of students who study Gold Rush History each year visit this camp and pan for real gold in the richest creek in California-and it flows through our camp.
Gold Prospecting Expeditions has professional prospectors who will instruct you in panning, sluicing and highbanking. Gold is found on every trip and with over 25 years of experience, we know how to find the gold!