Where to Find Gold in Alaska: Prospecting, Panning & Mining

Alaska is one of the best places in the country to find gold, and is well known for vast wilderness areas and great locations for prospecting.
I was lucky enough to work in Alaska one summer during my college years, at a lodge owned by Princess Cruise Lines in Denali National Park.  Although my time there consisted of a lot more work than recreation, I still look back on it fondly and have good memories of Alaska.  The wilderness was beautiful, and the summertime weather was great (although the sun was up a bit too much for my tastes . . . I had to put blankets over the windows of my room to get any sleep).
At the time I was working in Alaska, though, I had no interest in gold prospecting.  One of my previous summer jobs had been working at a gold mine in Round Mountain, Nevada filling blast holes and doing maintenance work. But my work in Alaska had nothing to do with gold mining, and everything to do with serving tourists who were bussed into Denali as a leg of their Princess cruise vacation.
Still, even then I know that Alaska was famous for its role in gold rushes over the last few centuries, when prospectors from around the globe flocked with dreams of finding gold nuggets and striking it rich by staking a claim on gold-rich land.  What most people might not realize is that even today, in the 21st century, Alaska is still one of the most sought-after locations for amateur and professional prospectors and geologists to find gold.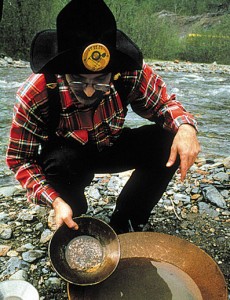 There are a wide variety of gold prospecting options in Alaska.  These options range from simple afternoon beach panning excursions, to spending a few days dredging for gold in a stream or creek, to a bigger weeks-long commitment of trekking into the wilderness on an adventure in search of a gold claim.  Alaska really is the most exciting state in the country when it comes to all the different ways you can find gold.
Despite the preponderance of gold in Alaska, however, you should still look at any gold prospecting vacations you might make to the state as just that: a vacation.  You really aren't likely to strike it rich (or even break even), but you will have a lot of fun and a much higher likelihood of finding some small amounts of gold than you could in most other states.  Just don't spend your life's fortune going to Alaska with the expectation that you're going to be bringing home any fist-sized nuggets.
There are four basic ways that you're going to be able to find gold in Alaska: gold panning, gold sluicing, gold dredging and gold metal detecting.  All four methods are explained in much more detail in numerous places online (including this website), so I won't go into too much detail about the processes.  Panning and metal detecting require the least dedication of time, while sluicing and gold dredging can be a much more extended commitment.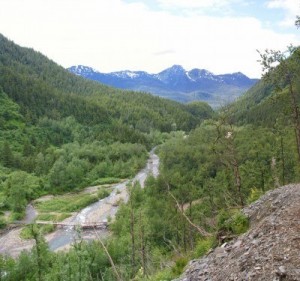 Luckily, gold prospecting vacations to Alaska can be arranged on for both adventurers with limited budgets and those who have the funds available for more extensive excursions.  For a simple afternoon or two of panning for gold in Alaska, you can very easily contact one of the many commercial panning locations found all across the state (just do a quick Google search for the area or city you're interested in visiting, and you'll be surprised at the number of gold panning operations there are to choose from).  These smaller setups are perfect for those of us who only want to spend a few days prospecting just for the experience, and who don't have a lot of money to spend.
For people with larger budgets and more than a few days to spend in Alaska, there are also plenty of professional prospecting and mining adventure organizations in the state that can set you up with a much more in-depth experience.  Finally, for the rare gold mining adventurer who wants to spend an entire summer in Alaska searching for gold, you can contract with an operation that will make sure your months in the state are spent in the right locations and with the right tools.
As for where exactly to go in order to find gold in Alaska, there are lots of commercial properties, prospecting organization claims, and public mining areas that allow prospecting and panning.  Public mining areas allow you to search for gold without any permission required (as long as you follow the rules), while the owners of commercial mining properties in the state sometimes open up their property to amateur gold prospectors for a fee.