Where to Find Gold in Australia: Metal Detecting for Gold Nuggets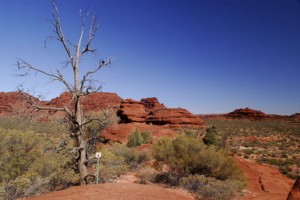 There's a good reason why so many prospectors dream about where to find gold in Australia and metal detecting for gold nuggets there: simply put, there's a whole lot of gold in the Outback.  Australia is the third largest producer of gold in the world, and has a full ten percent of all the gold resources in the world economy (only the USA and South Africa produce more gold every year).
The great majority of the gold that is produced in Australia comes from large commercial gold mining operations.  Most of the commercial gold mines in Australia are open-pit mines, but some mining is also done underground.  Western Australia has the largest number of commercial gold operations, with the rest scattered around the Northern Territory and the other states in Australia.
Plenty of gold is found in Australia every year by smaller, non-commercial gold operations, individual prospectors and amateur nugget hunters.  Australia became a much sought-after destination for prospectors during the gold rush of the 1800's.  After significant amounts of gold were discovered in New South Wales, Victoria, Queensland, Tasmania and Western Australia, the goldfields of Australia were flooded with 19th century treasure hunters.  These early prospectors usually started out looking for gold nuggets with pans, shovels and picks.  Once the gold on the surface was scoured away in a particularly rich Australian goldfield, more complex operations would move in that included mining into rock, dredging and sluicing.
Today, it is still possible to find gold in the Australian Outback by panning in creeks, streams and rivers, which is a method that leads prospectors to significant placer deposits every year.  But metal detecting for gold nuggets on the surface and beneath the ground has become the most profitable way to search for gold in Australia for smaller mining operations and prospectors.
Recently, a lone prospector using a metal detector found a 50-pound, football-sized gold nugget in Kalgoorlie, Australia.  This giant nugget, known as "the Ausrox Nugget," ended up getting sold for more than a million dollars to an American buyer.  As you might expect, the prospector who found the giant Australian gold nugget never made his name or the exact location of his find available to the public.
If you're from the USA or another country, it isn't wise to jet off to Australia to search for gold unless you plan ahead and coordinate your trip with a professional gold hunting outfit in the Outback.  There are plenty of gold prospecting groups that can set you up with a great, guided trip in Australia, regardless of what part of the country you're visiting or whether you want to pan for gold or metal detect for gold.
There's also something else that you have to keep in mind if you want to find gold in Australia: there's a lot more government red tape to navigate there than in other countries that are targeted by gold prospectors.  You'll need to get a basic license for mining, and depending upon the size of your operation, you might also have to pay other local fees, rates and levies.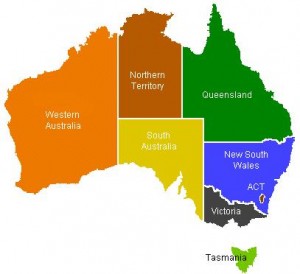 We won't list every single gold prospecting outfit in Australia on this page; with a simple Google search, you can find out plenty about gold prospecting groups in every part of Australia that can set you up with vacation packages and adventure tours for both panning and metal detecting for nuggets.  We will, however, list areas in each of the Australian states where gold has been found in the largest quantities.  If you're interested in finding out more about specific areas below and what kinds of gold have been found there, you can do more research online.
Where to Find Gold in Western Australia
Broad Arrow
Coolgardie
Cobra
Cue
Halls Creek
Kalgoorlie
Kambalda
Kimberly
Leonora
Menzies
Where to Find Gold in the Northern Territory, Australia
Brock's Creek
Daly River District
Macdonnell Ranges
Maude Creek
Pine Creek
Tanami District
Tennant Creek
Union Reef
Where to Find Gold in Queensland, Australia
Bowen
Georgetown
Charters Towers
Clermont
Cloncurry
Cracow
Cooktown
Gladstone
Mackay
Maryborough – Gympie
Nanango, Queensland
Palmer River Goldfields, Queensland.
Ravenswood
Rockhampton
Warwick
Where to Find Gold in Victoria, Australia
Ballarat
Beechworth
Bendigo – Blackwood
Bethanga
Castlemaine
Dargo
Dunolly – Bealiba
Inglewood – Kingower
Lauriston – Taradale
Maryborough
Moliagul
Possum Hill – Llanelly
Pyrenees
Rheola – Whela
Stawell – Ararat
Steiglitz – Maldon
Warrandyte – Rushworth
Walhalla – Gaffney's Creek
Wedderburn – Girabaldi