Where to Find Gold in Canada: Ontario, British Columbia, Quebec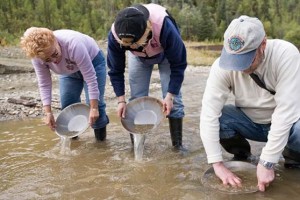 The country of Canada is one of the most gold-rich geographic locations in the world, coming in fourth in total gold production after the countries of South Africa, the United States of America, and Australia.  It's not a difficult task to figure out where to find gold in Canada; the country has more than 300 productive gold mines, mostly located in the Canadian Shield area of the country that includes Ontario, Manitoba, Winnipeg, Quebec and British Columbia.
In terms of the total amount of gold produced every year, Ontario is the most prolific, followed by Quebec and British Columbia (Nunavut and Newfoundland also account for a smaller amount of production).  Although 90 percent of the gold that is found in Canada comes from open-pit and underground commercial gold mining operations, many prospectors with smaller operations also find placer gold in the country with panning, metal detecting and other methods.
Prospectors first found gold in Canada way back in 1823 in Quebec, but the country experienced its famous gold rushes later than those of Australia and California.  It wasn'ts until 1858 that the Cariboo Gold Rush occurred in British Columbia, and the much bigger Klondike Gold Rush it its peak around the turn of the century, drawing thousands of amateur prospectors and miners to the Yukon.
Panning, Prospecting and Metal Detecting for Gold in Canada
Placer gold deposits in Canada are usually extracted from streams, creeks and rivers in Canada by amateur prospectors by panning and sluicing.  Metal detecting for gold nuggets isn't as common in Canada as it is in Australia and the USA, although some gold hunters have had success with it.  Like Alaska, many of the best places for prospectors to find gold in Canada are deep in wilderness areas that require planning and time to mine successfully.
There are plenty of smaller gold panning and prospecting outfits throughout Canada that cater to tourists and mining hobbyists.  Although these places might not offer you a chance to hit the mother load, they can give a casual vacationer an opportunity to pan for gold and learn about Canadian gold rush history.
For more serious prospectors who have the time and money to devote to professional prospecting and panning outings, it's best to contract with a professional outfit that can help you put together all the necessary resources you need for a successful trip.  With a quick online search, you can identify many different gold prospecting outfits in any area of Canada in which you'd like to plan a mining excursion.