Where to Find Gold in Queensland: Prospecting, Panning, Detecting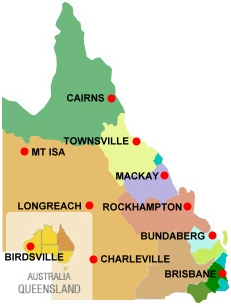 Queensland isn't just the second largest state in Australia . . . it's also one of the most gold-rich areas in a country well-known for its gold prospecting, panning and metal detecting opportunities.  In fact, the coast of Queensland is known as the "Gold Coast," mainly for its abundance of gold deposits, gold flakes and gold nuggets.  Identifying where to find gold in Queensland isn't tough, although getting it out of the ground or out of creeks and streams can take some time and hard work.
Gold was originally discovered in Queensland, Australia back in the mid-1800's, and a gold rush boom soon followed.  Thousands of would-be gold prospectors flooded into Queensland and created a bustling new populace and economy.  Gold was collected by both large corporate mining operations and individual prospectors and panning teams.
Today, there is still much more gold to be found in Queensland . . . although there's a lot more government red tape to deal with, like special licenses and prospecting fees.  Whether you are a planning to metal detect for gold nuggets or pan for gold flakes in Queensland, it's best to plan your trip far in advance and make sure you get the proper permissions and paperwork out of the way.
There are plenty of different prospecting outfits that can help you set up a gold panning or metal detecting trip to the Queensland.  The Internet is the best place to do a search for groups in local Queensland areas that can get you up and running with a gold prospecting adventure in the outback.  Prices will vary widely depending on how long you plan on staying in Australia, what type of gold prospecting you want to do, and how extensive your expedition is going to be.
To help you start out with your decision of where you want to go to find gold in Queensland, here's a list of towns and geographic areas where gold has been discovered in abundance already:
Gladstone
Mackay

Maryborough – Gympie

Nanango

Palmer River Goldfields
Ravenswood

Rockhampton

Warwick

Bowen

Georgetown

Charters Towers

Clermont

Cloncurry

Cracow

Cooktown