Where to Find Gold Prospecting Clubs & Groups for Panning Gold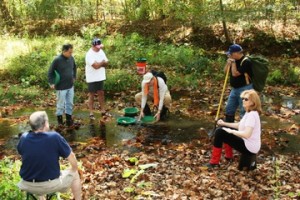 If you're just getting started with the hobby of amateur gold prospecting and panning, one of the best ways to learn the ropes is by joining a prospecting group, club or organization in your state.  Prospecting clubs are more numerous in states where gold is prevalent, but even states where panning isn't as common there are usually a group or two that you can find and join.
Remember, gold can be found in almost every one of the fifty states, and opportunities for prospecting and panning aren't just limited to the western United States.  In fact, some of the best gold panning can be done in states where you might not expect to find placer gold in creeks and streams.  After you've practiced panning and decided whether or not you want to get more involved in the hobby, the best way to identify good local prospecting spots is by joining a club and interacting with the members.
The simplest way to find a gold prospecting club in your state is with a quick Google search.  Most serious groups nowadays will have at least a simple website set up to attract new members.  If you need more help in identifying local organizations in your state, check out this page on the Gold Miner's Headquarters for a list of many active state gold prospecting groups.
In addition to joining local gold mining groups, you might want to consider becoming a member of the Gold Prospecting Association of America.  This national group has local chapters and benefits that make it worth signing up to become a member.