Colorado Gold Prospecting: County Considers Ban on Gold Panning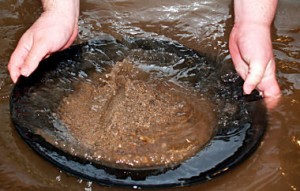 Wondering where to find gold in Colorado?  If you live in the state and are thinking about getting into amateur gold prospecting or gold panning, you might want to check and make sure that it's legal on your county's property.
Larimer County, Colorado officials will be voting soon on whether or not to ban gold panning and prospecting on county property.
Why are officials considering banning it?  Apparently, recreational gold prospectors have been panning on Larimer County property in such large numbers recently that it's becoming a nuisance.   County rangers are reporting that they have seen more people prospecting in the last year-and-a-half than they have in the last 20 years.
There is already a list of things that aren't allowed to be taken off of Larimer County land, but "minerals" is not one of them.  If county officials vote to ban prospecting, gold and other minerals would be added to the list.
There's still hope for amateur prospectors who want to continue panning for gold there, though; even if a ban is passed, county officials say they might set up areas designated for gold prospecting.