Gold Rush Prospector Old Pictures: Miner, 49er Panning Photos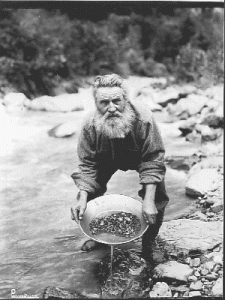 Gold prospecting sure has changed over the last few hundred years.  During the great gold rushes in the United States–which took place in the 1800's and early 1900's and were photographed extensively–miners and prospectors in search of gold traveled across the country to places like Georgia, California, Colorado, Alaska and other states with hopes of striking it rich.
These original gold rush prospectors–of whom the "California forty-niners" were the most famous–often didn't have anything more than rudimentary panning and prospecting equipment, as you can see in many old pictures.  They set out in small teams in the wilderness with only a donkey or mule, a pick, a shovel, a gold pan and perhaps some sluicing equipment.  They were real pioneers, and very few of them ever ended up finding the fortune in gold nuggets and flakes that they had dreamed of.
From the cold and snowy climate of Alaska, the Klondike and the Yukon to the wilderness of California, these original prospectors have earned a respected place in American history.  The classic black-and-white photos of grizzled old gold miners and prospectors from the 19th and early 20th century have earned a place in our collective culture.
Below are some of the most famous and interesting photographs from this era, showing young and old gold prospectors and miners looking for gold in many different states.  These pictures will always be an important part of U.S.A. history, especially since many of our most successful and populous states saw their original population boom due to local gold rushes.  Remember that when you look at some of these old pictures of gold prospectors and 49er's, you're looking back at history that help formed the society that you would someday live in.
Click on the thumbnails below to see larger versions of the photos.