Taking a Dive for Gold

After hearing stories of the gold rush days, the tales of Spanish gold, and shipwrecks with enormous wealth, I also was overcome with visions of gold. I saw an article in Skin Diver magazine about divers dredging for gold and the fire in me was again kindled into a burning flame. Anything to do with diving hypnotizes me and the thoughts of diving for gold was more than I could stand.
I parted with some hard-earned money in 1964 and became the owner of a Keene 6-inch gold dredge. The dredge consisted of an inner tube that floated with a 5 HP Briggs and Stratton gas engine, an air compressor, and a high-pressure/high-volume water pump attached to the top of the inner tube. The pump sent water through a 20 foot, 1 1/2 inch hose to the venture action dredge.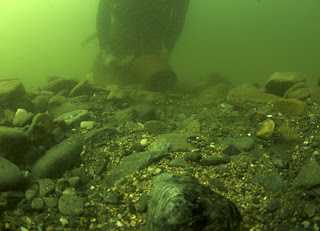 The high volume of water squirted into the 6-inch dredge pipe at the correct angle created a suction at the open (or working) end of the L-shaped dredge. Dirt, mud, sand, gravel, rocks and gold were sucked through the 6-foot length of dredge pipe and over a 12-inch sluice box before exiting the dredge pipe.
The small air compressor furnished air through a hose to a regulator in the diver's mouth which enabled the diver to breathe underwater while operating the gold dredge. I usually ran the dredge for one hour before emptying the sluice box and panning the tailings in a gold pan. (I later found out that I recovered just as much gold after only fifteen minutes.) Years later, the dredges main components were floated on pontoons with a 4-foot sluice box that only had to be emptied once a week.
I was a commercial diver and had just finished the first commercial total-saturation diving job ever attempted. Winter was upon us and we had a break in the diving work until spring. I took my gold dredge and headed to Silver Creek near Morganton, North Carolina looking for gold.
I liked the sound of "Gold in Silver Creek." I met several people there who were interested in gold. Jim Chapman and Mike Holcombe turned out to be very good friends. I stayed with Jim and we prospected Silver Creek on his property.
It was cold! Each morning there would be three inches of ice on the creek. Being young and fearless, I chopped through the ice and made enough room to work in. I wore a one-forth inch Farmer John wetsuit and ran the dredge while Jim built a fire around a 55-gallon barrel filled with water. When I became so cold that I couldn't stand it, we would empty the sluice box and I would warm up while Jim panned the tailings of black sand from the sluice.
I warmed up by filling a deck bucket half full of the hot water from the hot water barrel, mixing it with creek water until the perfect temperature was obtained, and then pouring it down the neck of my wet suit As cold as I was, the hot water was wonderful. Using this system, I could work all day in the shallow water of the creek.
Gold – yes, we found gold each and every time we emptied the sluice. Not a lot, but still gold. (With that early rig, there is no telling what we missed!) Just a few specks – just enough to see, just enough to make someone obsessed with gold fever know that a fortune lay nearby.
After two weeks of this obsession, I had to return home. I never went back but think of those times often. I kept my share of the gold in a small jar filled with water (to keep from losing the small flecks of gold). I proudly showed my gold to anyone willing to look at it. Not many were impressed with such a small amount.
I finally married the love of my life, Becky. I showed her my treasure of gold. Becky showed genuine enthusiasm for it and listened intently as I told her of my experiences hunting for gold as well as other mind-boggling experiences. She asked me what I intended to do with the gold. All I had ever done was look at it – it was so beautiful in the sunlight. Becky's question got me to thinking – what would I like to become of that gold?
I had a ring that had an ankh symbol on it and I decided to make Becky an ankh pendant from the gold to wear around her neck. That would be the perfect gift to give her.
Knowing nothing about processing or refining gold, I figured it would be similar to lead. I carved a mold from wood and prepared to melt the gold in a cast iron skillet iron skillet. I took a cutting torch and thoroughly burned and cleaned the skillet. I then placed some gold in the skillet and proceeded to melt it with the cutting torch.
As the gold melted, it instantly dropped into the bottom of the skillet. This was the result of having old grease that would not burn out impregnated in the bottom of the pan. The result was that I now have a gold-plated skillet with a small nugget in it for over 20 years.
Having been told that you can't keep a good man down, I tried another approach. I took the gold to a jeweler and had him make the golden ankh.
Becky has worn it almost every day for the last 20 years and it is one of her most prized possessions.